Plano acoustic panels
SonexAsia Plano acoustic panels are used to reduce the reverberant noise levels in schools, offices, sport centre, call centre, night clubs and bars, conference rooms, day care centre, theatre etc.
> See also our reference list.
 Product advantage:
Excellent acoustic properties in a wide frequency range
Products meet all international fire regulations
Open cell structure, which guarantee a high acoustic performance
Low density (approximately 11 kg/m3)
Easy to install
Resistance against high humidity
Building material classification
Germany: B1 hardly flammable in accordance
with DIN 4102. Low non-toxic smoke emission
USA: ASTM E162 full filled
UK: BS 476, Part 6 & 7 class 1
Installation
When the SonexAsia acoustic products are glued against the ceiling/wall. The surface where the tiles will be installed must be clean. During installation we recommend gloves to be worn to prevent pollution of the panels during installation.
When opening the cartons each pair of product is folded open (pyramid products) and adhered with the adjoining edges butting up to each other.
Non-absorbent surface: use silicon adhesive and apply a bead of silicon adhesive along all four edges and in the center of the tile.
Absorbent surface: coat the dry surface (or the tile) with adhesive (approx 1 kg per m2) and position and affix the tiles.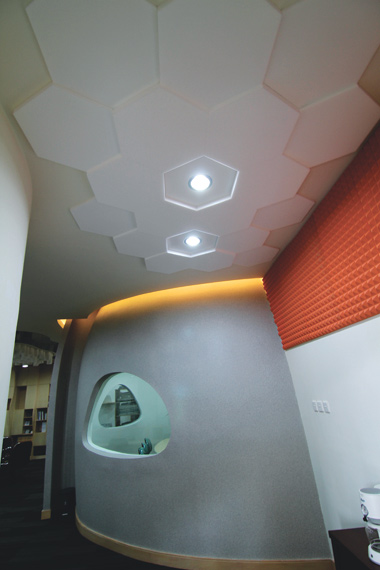 Technical Info Plano acoustic panels
Dimensions
Standard dimension:
1250 x 625 x thickness (mm) ;
625 x 625 x thickness (mm)
1250 x 1250 x thickness (mm)
other dimensions on request
Dimensions tolerances
According DIN 7715 P3. Due to fluctuations
in atmospheric humidity significant dimensional
tolerances may occur.

Colours
Standard colours are white and light grey.
Non-standard colours may be provided
to RAL colours upon request, depending
on quantity.
Sound Absorption Coefficient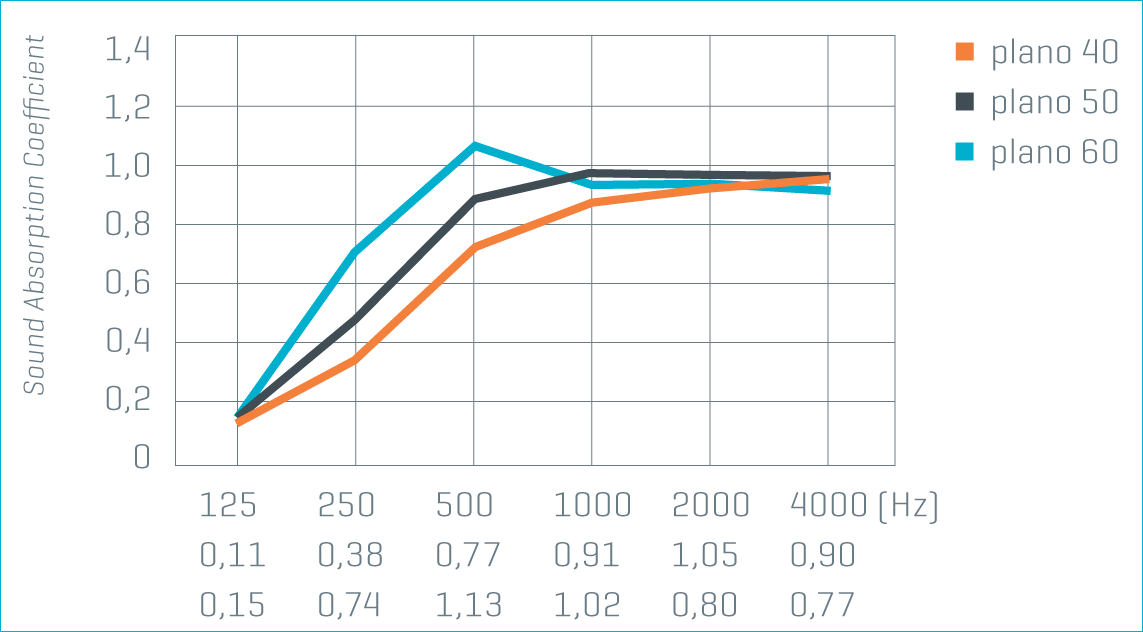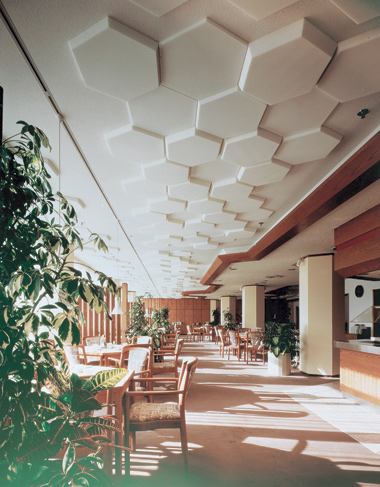 Environment and Safety
All products supplied by SonexAsia are environmental friendly and safe for humans. The products are free from synthetic and natural mineral fibres, halogens and CFC's.
We are proud that our products are certified with the Eco certification.