Plano and Rondo baffle
Plano and Rondo sound absorbing panels are installed vertically or horizontally against the ceiling. This high efficient system has excellent acoustic performance in terms of sound absorption and is easy to install and does not affect the ceiling construction.
Product advantage:
Excellent acoustic properties in a wide spectrum
Products meets all international fire regulations
Open cell structure, which guarantees a high acoustic performance
Safe to install because of low weight. Does not substantially increase the load on the structure, a significant advantage where a high quantity is required.
Cost saving because of its efficient installation technique.
Resistant against high humidity
No aging
Health and safety:
All products are free of synthetic and mineral fibre, free of CFC´s and halogens. Free of both artificial and natural fibers (such as rock fiber and fiber glass). Safe in use, non toxic and environmental friendly in handling and applications.
Technical info Plano and Rondo baffle
Building material classification:
Germany: B1 hardly flammable in
accordance with DIN 4102.
Low smoke emission
US: ASTM E162
UK: BS 476 part 6 & 7 class 1
Temperature resistance: -60 celcius to > 150 celcius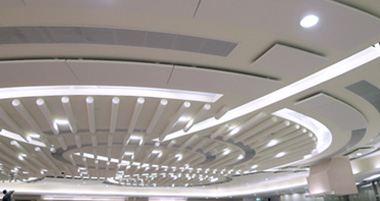 Dimensions Plano baffle
Standard Dimensions:
1250 x 625 x 50 (mm)
Dimensional tolerances according DIN 7715 P3
Dimensions Rondo baffle
Standard Dimensions:
1200 x diameter 150 (mm)
Dimensional tolerances according DIN 7715 P3
Colours
Standard colours are white RAL 9010 and light grey RAL 7040 non-standard RAL colours on request.
Material
Sonex Basotect (Basf).
Installation
Installation of the Rondo Baffle and Plano Baffle is possible either with a T-grid hanging system or with a cable.
Sound Absorption level (α) according DIN 52 212