Pyramid acoustic tiles
The pyramid like surface acoustic tile provides the greatest area of absorption of all. Because of it's excellence acoustic specifications our SonexAsia pyramid is used in a wide range of architectural environments.
The SonexAsia pyra is frequently used in following room acoustic applications: Universities, restaurants and cafeterias, recording studio's and home cinemas, offices and meeting rooms.
Also frequently used for following industrial and noise control applications:
Pump- and engine rooms, enclosures for airco system in buildings, enclosure for lift engine room in buildings.
> See also our reference list.
Product advantage:
Excellent acoustic properties in a wide frequency area
Products meets all international fire regulations
Open cell structure, which guarantees a high acoustic performance
Low denstity
Easy to install
Resistant against high humidity
Technical Info Pyramid Tiles
Burning performance Acoustic foam SonexAsia
UK BS476, Part 7, Class 1
Germany B1 according DIN 4102 , hardly flammable . Low non toxic smoke emission
USA ASTM E84 class 1 (A)
Temperature resistance: -60 celcius to > 150 celcius
Health and safety:
All products are free of synthetic and mineral fibre, free of CFC´s and halogens. Free of both artificial and natural fibers (such as rock fiber and fiber glass). Safe in use, non toxic and environmental friendly in handling and applications.
Sound absorption level according to DIN 52 212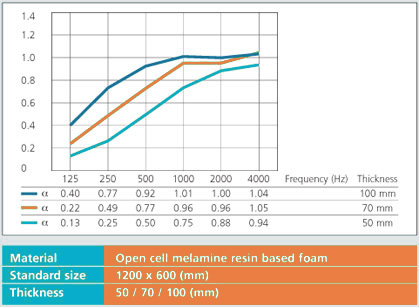 Dimensions
Standard Dimensions 1200 x 600 (l x w) (mm)
Germany 50 / 70 / 100 (mm) other dimensions
(thickness or length/width on request)
Dimensional tolerances according DIN 7715 P3
Colours: standard colours are white and light grey
RAL colours on request